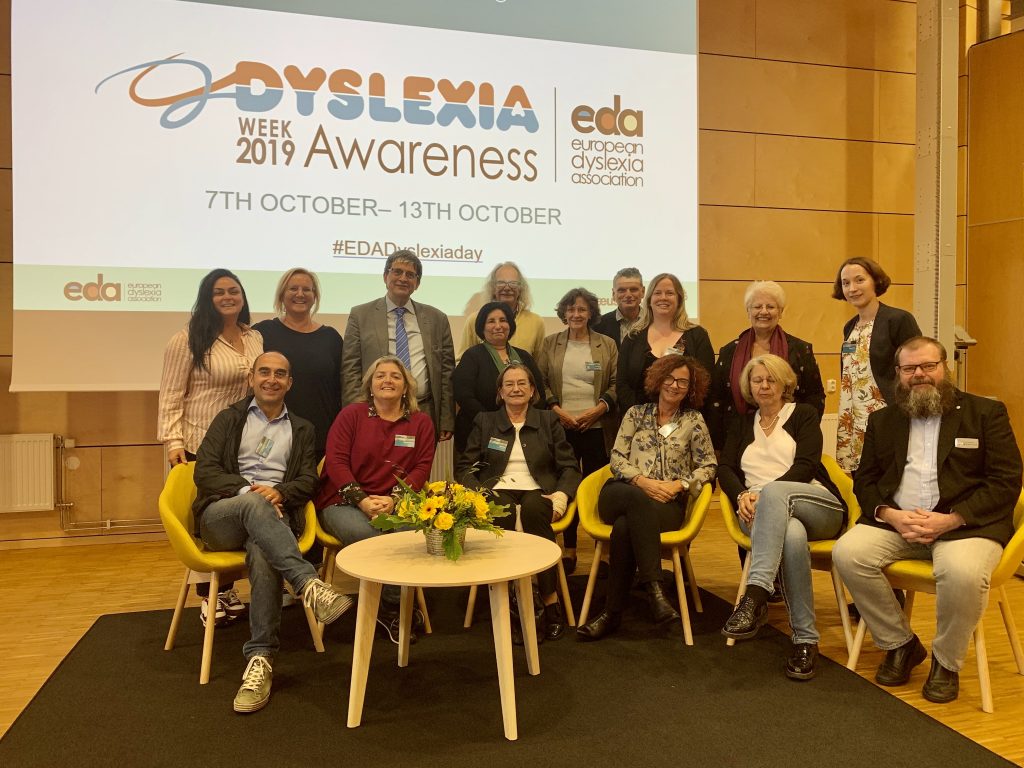 Agenda
Opening by the Chairman, SR Michael Kalmár
Michael Kalmar opened the General Assembly.
Roll Call of attendees (Voting delegates)
Malta – Carmen Muscat (MDA)
Catalan, Spain – Neus Buisán (Associacio Catalana de Dislexia)
Ireland – Rosie Bissett (DAI)
Greece – Giannis Karagiannakis (Hellenic Dyslexia Association)
Italy–  Cristiano Termine (AID)
UK – Sue Flohr (BDA)
France – Vincent Lochmann (FFdys)
Austria – Florentine Paudel (Öst.Bundesverband Legasthenie)
Scotland – Fran Rinaldi (Dyslexia Scotland)
San Marino – Riccardo Venturini (ASD)
Spain/Iberoamerican – Erica di Francesco (Assoc. Dislexia y Familia)
EDA Board Directors (BD) present at this 2019 AGM
Rosie Bissett EDA BD (2016-2029)
Ruth Falzon EDA Treasurer (2015-2019)
Bengt-Erik Johansson EDA BD (2017-2021)
Michael Kalmar EDA President (2015-2019)
Giannis Karagiannakis EDA BD (2015-2019)
Vincent Lochmann EDA BD (2015-2019)
Christine Scziegel EDA Secretary (2015-2019)
Pernilla Soderberg-Juhlander EDA Vice-President (2017-2021)
Cristiano Termine EDA BD (2018-2022)
Nominees for the EDA Board (2019-2023)
Mercedes Mayoral Nominated by the Associacio Catalana de Dislexia
Florentine Paudel Nominated by Austrian Federal Dyslexia Association
Ruth FalzonNominated by the Maltese Dyslexia Association
Christine Scziegel Nominated by BVL (Bundesverband Legasthenie und Dyskalkulie)
Giannis Karagiannakis Nominated by the Hellenic Dyslexia Association
Full attendance list was also taken.
Appointment of a Teller – Decision
Dr Giannis Karagiannakis was appointed as a Teller. Proposed by EDA board Director Dr Ruth Falzon and seconded by EDA Board Director Ms Rosie Bissett.
Establishment of a Quorum – Ratification A valid quorum was present (more than three effective members represented).
Amendments to and Adoption of the Agenda – Decision
Mr Michael Kalmar presented the draft agenda he had sent agenda to members via email (e-mail subject: EDA Newsletter 2019-6) 25 June 2019 at 11:45. he Assembly unanimously agreed to adopt the draft agenda (Appendix A).  There were no abstentions and no Agenda items were proposed.  The June Draft Agenda was therefore adopted for this 2019 AGM.
Adoption of the Minutes of the previous General Assembly held in Munich on 20th of October 2018 – Decision
The minutes were unanimously adopted as read.  There were no abstentions
The Board's (Annual) Report – Taking to notice
The Chairman's General Report
EDA President (2015-2019) Mr Michael Kalmar presented the last annual report of his presidency (Appendix B). He noted that his presidency term concluded at the end of the 2019 AGM and that he did not intend to run for EDA Board elections again and his association (Österreichischer Bundesverband Legastheniehas) has been notified.
EDA Board Director Ms Christine Scziegel took the floor to thank Michael for all the great work he has done over the years and presented him with a gift (silver frame) from the EDA Board.  Mr Kalmar was also awarded a certificate making him an Honorary Member of the EDA in recognition of his huge contribution over many years to the work of the EDA, both as a Board Member and as Chairman.
Mr Vincent Lochmann read a message thanking Mr Michael Kalmar from Dr Anne-Marie Montarnal (ADEPA, France).  The message also noted FFDys had nominated Mr Michael Kalmar as Honorary membership of FFDys.  The Assembly congratulated Mr Kalmar.
Ms Christine Scziegel proposed and Mr Vincent Lochmann seconded the President's Annual Report. The Assembly unanimously accepted the president's report.  There were no abstentions.
7.1 Reports from Sub-committees
(Every committee was allotted ten minutes for the respective reports)
Finance Sub-Committee
EDA treasurer Dr Ruth Falzon presented a report on EDA's Finances, and accounts for the 2018 calendar year. 2018 saw a loss of €1,848 in real terms, which increased to a loss for accountancy purposes of €8,355.97 due to writing off unpaid memberships prior to 2018 which had been accrued for in previous accounts and which now must be written off.
On December 31, 2019, the EDA assets/funds stood at €27,937.00 (Appendix C)
Falzon noted that ideas on how to generate more funds would be welcomed from members.
Falzon presented the present membership profile – 31 members are fully paid up to date this year (2019), another 13 are outstanding for this year (2018). Three are asking for a reduced rate.
Dr Ruth Falzon reported that the Finance Sub-committee is preparing an EDA Finance Policy document outlining policies and procedures.
Ms Pernilla Soderberg-Juhlander suggested looking for sponsors for EDA activities. EDA Board will look at developing a protocol for this.
Dr Ruth Falzon remarked that EDA also needs to recruit as many members as possible to ensure we are fully representative, and to maintain a strong network across Europe.
Ms Pernilla Soderberg-Juhlander asked the EDA Board to consider further develop development of the website and social media to enhance communications and exposure.
Mr Vincent Lochmann referred to income that should be generated from (a) the Erasmus+ project Dyslexia@Work also noted, and (b) the EDA Consultancy work on the Viotti RDDA project.
Ms Christine Scziegel thanked Dr Ruth Falzon for her work on the accounts.
Later on in the meeting (Point 10 below), Dr Ruth Falzon proposed the 2018 accounts and Ms Mercedes Mayoral seconded.  The Assembly unanimously present accepted the accounts report.  There were no abstentions.
Events  Sub-committee
Ms Pernilla Soderberg-Juhlander thanked the Assembly for attending the 2019 autumn seminars. She hoped that more member-associations would take part in the Associations' presentations session at the 2020 EDA Seminars and that reports during next year's seminars would increase, as this year's reports were very well received.
Ms Pernilla Soderberg-Juhlander and Mr Peter Häggstrandwere thanked for organising the 2019 EDA Seminars
Policy and Lobbying Sub-Committee
Mr Vincent Lochmann reported that there is now a new EU Parliament, so now is a good time to propose new issues for discussion.  Mr Lochmann suggested the topic of mobility of rights and access to accommodations. He reported that contact is to be made with EU network organisations related to access arrangements to identify common issues and urged the Assembly present to communicate with their MEPs.
Ms Sue Flohr noted the need to map current legislation and practice across Europe. She acknowledged that this would be a big task.
Mr Riccardo Venturini raised the issue of students' rights at European level.
Communications
The Assembly suggested that, if elected, Ms Mercedes Mayoral should be chair of this sub-committee.
Academic Advisory Committee (AAC)
Dr Giannis Karagiannakis reminded that the AAC was established around two years ago. Its tasks included reviewing abstracts or specific questions for research.  The AAC has also reviewed texts on EDA website.
He explained that the AAC needs to identify clear plan and realistic priorities for the AAC. AAC members are very busy academics, have limited time, and EDA is not always able to pay for their costs or time. The need to consider more flexible approaches to engagement, for example events- or actions-specific academic/scientific committee. The EDA Board will discuss this further with the AAC.
Changes of status of membership of members – Ratification
No applications received for changes in status (from adherent to effective).
Termination of membership – Ratification
Effective EDA member Austrian Initiative LEGA Voralberg LEGA has expressed its wish to terminate its EDA Membership.  Dr Ruth Falzon informed that when she received this information, she asked Mr Michael Kalmar to contact Initiative LEGA Voralberg.
Mr Michael Kalmar reported that this resignation is related to financial difficulties. It was agreed that the Board will discuss policy regarding requests from members who claim they are unable to pay.
Dr Ruth Falzon that there are two other EDA member-association in the same situation.
Financial Report 2018, Treasurer Ruth Falzon – Approval
As noted in point 7.1a above, Dr Ruth Falzon proposed and Ms Mercedes Mayoral seconded the 2018 accounts.  The Assembly unanimously present accepted the accounts report.  There were no abstentions.
Report of the external auditor 2018, Eleni Livianou – Taking to notice
Mr Michael Kalmar reported that a positive report was received from EDA- appointed Auditor Dr Eleni Livianou, after having reviewed the EDA's activities for 2018.
Approval of the Balances and Accounts 2018– Decision
As noted in point 7.1a and 10 above, Dr Ruth Falzon proposed the 2018 accounts and Ms Mercedes Mayoral seconded.  The Assembly unanimously present accepted the accounts report.  There were no abstentions.
Approval of the Draft Budget for 2019 – Decision
RF reported that budget will be in line with previous years' trends (Appendix D). Ms Rosie Bissett proposed and Dr Cristiano Termine seconded the 2020 budget.

The Assembly unanimously present accepted the accounts report.  There were no abstentions.

Annual Subscriptions for coming years – Discussion
It was agreed to postpone this discussion to the subsequent Board meeting.
Elections to the Board of Directors – Supervised by the approved teller Dr Giannis Karagiannakis (Point 3 above)
a)  Seven Board Directors are finishing their four year term, but are eligible in case their organisations are nominating them again for the election:

Michael Kalmár (Chair)
Lars Sander (Vice-chair)
Christine Sczygiel (Secretary)
Ruth Falzon (Treasurer)
Raymond Claes (Administrator)
Giannis Karagiannakis (Administrator)
Vincent Lochmann (Administrator)
b) Up to the date of the AGM, the Chair and Secretary received the following nominations for candidacy for the Board:

Austrian Federal Dyslexia Association                              Florentine Paudel
Catalan Dyslexia Association (Spain)                                MercedesMayoral
Federal Association Dyslexia & Dyscalculia (Germany):   Christine Sczygiel
Malta Dyslexia Association:     Ruth Falzon
Hellenic Dyslexia Association (Greece)     Giannis Karagiannakis
FFDys (France)       Vincent Lochmann
The nominated delegates were unanimously voted in and there were no abstentions. Congratulations to these new Board members was noted.
On behalf of the new EDA Board, Ms Rosie Bisset thanked Mr Raymond Claes, Mr Lars Sander and Mr Michael Kalmar, for their years of work on the EDA Board.

Election of External Auditors for the next General Assembly 2019 – Decision
Mr Michael Kalmar proposed and Mr Bengt-Erik Johansson seconded that Dr Eleni Liviano (Hellenic Dyslexia Association) would be appointed External Auditor for 2019.  The Assembly unanimously agreed and there were no abstentions.
Short reports from the attendant Members – Taking to notice
Mr Michael Kalmar reminded that reports from EDA members had been given earlier in the day during the autumn seminars. Again, it was noted that this was a very good session.  The Assembly unanimously concluded that EDA should invite other members to participate during the 2020 EDA seminars.  There were no abstentions.  Dr Ruth Falzon suggested that this be named as the Associations' Forum and that this should always be part of the EDA seminars' programme. The EDA Board will be discussing this recommendation during its board meeting.
Motions from Member Organisations – Discussion & decision
No motions were presented.
Any Other Business – Taking to notice
No other business was tabled.
Questions from Members- Taking to notice
No questions were tabled by the Assembly present.
Address by the President – Taking to notice
MK noted his pride in working with the EDA Board members over his years of service. He heartily thanked the EDA Board the Honorary Membership and kind gift bestowed to him, and also the kind honour from FFDys.  He noted that he will always remain of service to EDA.
Closure of the General Assembly by the President