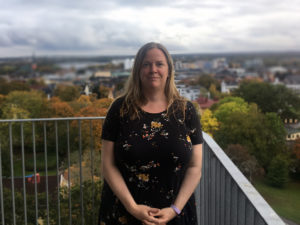 Chairperson Rosie Bissett
Dyslexia Association of Ireland, Ireland
Ms Bissett has been a member of the EDA board since September 2016 when she was nominated by the Dyslexia Association of Ireland (DAI). She has been working with the DAI for over 20 years, first as an Information Officer, and for the past 10 years as CEO.
As well as her work with dyslexia, she is also active on related issues: she was the chairperson of Dyspraxia/DCD Ireland until September 2019. She is also the chairperson of the Spectrum Alliance, an Irish umbrella organisation for hidden disabilities on the neurodiversity spectrum (dyslexia, dyspraxia, ATHD, and Asperger syndrome).
Rosie is a passionate advocate of those who learn differently. She has actively campaigned particularly on the issue of equitable access for people with dyslexia in Ireland. "With a background in health and social science, and my experience working with and for people with dyslexia for 20 years, I hope to make a contribution at a wider European level.
The EDA is well placed to bring the voice and experience of people with dyslexia to the European institutions to ensure that their needs are recognised and their rights respected fully and equally across Europe." Ms Bissett explained.